About
A homage to Ken Townsend's life and works.
3 Oct 11: A new version of the Tiger tile, that is presumed to be an earlier design.
26 Aug 11: Plenty of activity on eBay has seen the price of tiles soar. A price of £191 for the Whale tile has set a new record.
1 May 10: A new Weatherby dish has surfaced with the sad Lion featured.
24-April 10: Finally! All the Horoscope tiles have been identified and can now be viewed!
15 Feb 10: New find! A circular tile depicting a Norman soldier, which matches the square tile found before.

This site is non-profit making and information is freely given – a link back would therefore be appreciated if you use information from this site.
© PLEASE!
Information on this site is copyright © (see foot of any page). If you would like to use any text, please just acknowledge this site with a link. To use an image, then please contact us.

photo courtesy Pip Harris
The Kenneth Townsend website is © David P Encill & Pip Harris. Various photos throughout this site are copyright © the owner, as stated
Who was he?
Kenneth Townsend (1931-99) managed to capture the humorous side of life through his art, drawings and writing.
He was based in Hastings and is known to have worked as a freelance designer for Hornsea Pottery, Chance Brothers (glass), Cuckoobird Productions (textiles) Merit (games) and James Galt & Co. Ltd (toys). He was also the art director for Pickpocket Books from 1991-1998.
He exhibited his abstract art both at home and abroad and is represented in public collections in England, Scotland and Holland. He is the late brother of Dennis Townsend of Iden Pottery in Rye.

Above: Ken with a friend

Ken's Work
His cartoons are certainly endearing, whimsical and unforgettable. They are mostly found decorating standard 6in. (15cm) white ceramic tiles, for which there are well over 30 known designs.
Perhaps his most recognizable is the animal series 'Menagerie', which adorned ceramic tiles. There are believed to be 26 different designs. A different style also appeared on his tiles featuring the 12 horoscope signs. Another popular series was the Scenes of London, which was also adopted by Chance Brothers (below).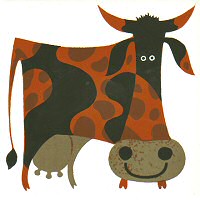 The Happy Cow
The same style is seen in the Scenes of London slumped glass trays produced by Chance Brothers, in Smethwick, Birmingham. These were produced in 1972 and came as a set of six, plus a lone one featuring a Scottish Piper (1973) and a rarely seen Shakespeare series (1974). This range extended further the figures seen only on Ken's independantly produced tiles.
Ken was also a very productive illustrator for children's books. In particular his own book, Felix the Bald-headed Lion proved immensely popular and was chosen as an outstanding book for the Junior Literary Guild in USA.
Illustrated (right) is an example from one book, Tootoo's Friends on the Farm, written by Warren Chetham-Strode.
In conjunction with Cuckoobird Productions Ltd. Ken produced some stunning textile designs, based on the cartoon animals.
Besides the Lion King (see right), a tiger also featured. See this page for more details.
Adapted from a photo
© Jeremy Townsend